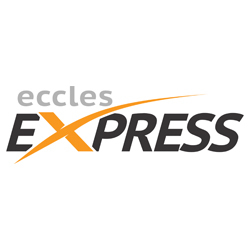 Eccles Express
Amazon Delivery Drivers
Sorry, this job has expired.
Kansas City, MO
Paid personal time, Health Insurance
Eccles Express LLC is an Amazon Delivery Service Partner seeking reliable Delivery Drivers as we build our team to meet unprecedented demand.
Pay starts at $18.25/hr. Full-time and part-time shifts are available.
No experience needed! No CDL required.
Full-time shifts:
Sunday–Wednesday & Wednesday–Saturday, starting at 10:30/10:50am.
Part-time shifts:
Thursday–Saturday, starting at 10:30/10:50am.
You must meet the following requirements:
• Must be at least 21 years old
• Must have a valid driver's license
• Must be able to operate and navigate a delivery van, GVWR 10,000 lbs. or less
• Must be able to move boxes up to 70 lbs., with or without reasonable accommodation
• Applicants that are offered a conditional offer of employment will be required to consent to drug, motor vehicle and other reviews.
Responsibilities:
• You will drive a van to deliver Amazon packages to customers within the community
• Must be comfortable driving and working in varying weather conditions. Load and unload packages to be delivered
• Must be customer obsessed! We strive to deliver packages and smiles to our customers.
You must be able to perform the following tasks, with or without reasonable accommodation:
• Lift packages up to 70 lbs.
• Get in and out of van 150 - 250 times per day
• Walk up and down stairs throughout your shift
We offer:
• Competitive compensation starting at $18.25 up to $20/hr with opportunities for bonuses and additional compensation.
• Paid time off / Paid Training / Paid Overtime at 1.5x pay
• Health Insurance available after ~30 days
• Training to help you be efficient, effective, and most of all, safe!
• A team dedicated to supporting you!
• Must have good communication and problem solving skills and the ability to work well with customers
Eccles Express LLC is proud to be an Equal Employment Opportunity and Affirmative Action employer. We do not discriminate based upon race, religion, color, national origin, gender (including pregnancy, childbirth, or related medical conditions), sexual orientation, gender identity, gender expression, age, status as a protected veteran, status as an individual with a disability, or other applicable legally protected characteristics. Become an Amazon Delivery Driver working for Eccles Express now. Delivery Amazon Packages throughout the Kansas City Area. Drive an Amazon van with an Amazon uniform while delivering Amazon packages for Eccles Express.
wi7y5s6nzw0z
113467522